A new home during lockdown - tips for property buyers
By Lizelle Steyn

19 August 2020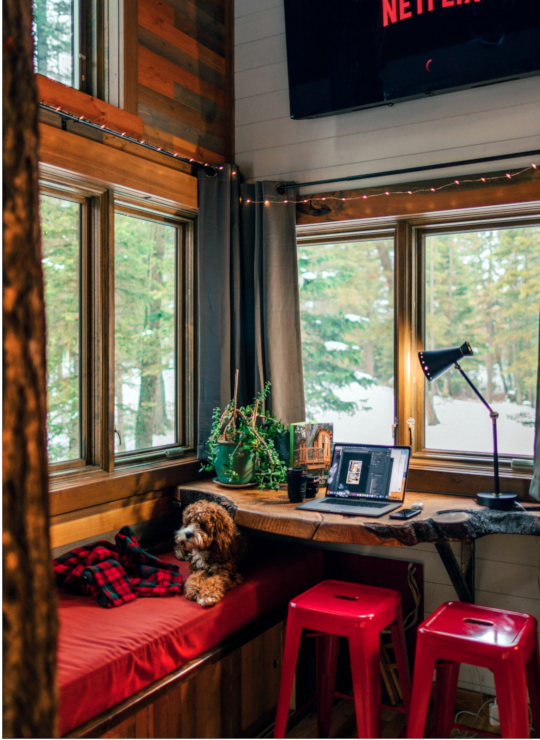 A new home kind of changes your view - quite literally. Image: Roberto Nickson

Yes, I'm still here. Lockdown has shown up new parts of me. Like most people, I've:
Stockpiled on gas, batteries, light bulbs, Lucky Star pilchards, lentils, rice, all sorts of soapy stuff, seeds, matches, Cell C data, lamp oil and, because I didn't want to find out too late why everyone is doing it, toilet paper – in the first week;
Learned how much I suddenly like whisky when it's banned, and eventually stockpiled on that too, with a bottle of MCC thrown in for one day when 'we get through this';
As proof that focusing on what you can't have, really stokes a craving for it, suddenly started longing for those cherry tobacco cigarellos that I used to hand-roll in my 20s;
Walked to Checkers every single day in Level 5 for some 'retail therapy';
Mowed my own lawn and picked up autumn leaves – all very new to me - for exercise;
Counted my blessings every single day and actually felt happy;
Phoned my partner and spoke for an hour every day;
Cleaned my place religiously – in the beginning;
Cheered for the bin collectors;
Got up at 1am some days to take some of the pressure off and get through the ballooned workload (that has since stabilised);
Worked in my PJs until lunchtime many days;
Started talking to myself and screaming like a bloody mad woman some days;
Committed plenty of binge-eating;
Laughed at The Kiffness and John Krasinksi, and cried at least once a day;
Felt the collective rage and grief as basic human rights disappear;
Phoned around for a Jojo tank;
Had sundowners with my neighbours on opposite sides of the fence and had the privilege of hearing life stories;
Got really close to every little thing inside my house up to the point where I now feel I have a relationship with so-called lifeless objects.
That's what lockdown does to you. I learned a few things about myself and appreciate everything that 2020 has brought so far.
Plus, two amazing things happened. My employer rapidly got everything ready for us to work from home and now actually prefers that we do just that for as long as possible. Wow, that is something I've been wanting to get in place for years. No need to lobby and motivate; it just happened overnight.
Secondly, I had to question my stance that – at my age - 50m2 is too small a space for me to live in permanently. I mean, I've been wanting to move to the countryside for years, but bought the Swellendam place last year as a weekend spot – with the idea to build on the plot a few years down the line and then only make it my permanent home. It took a mindshift, some queuing at the police station for permits and four trips between Cape Town and Swellendam, but I finally carted all my earthly belongings to this beautiful town under the Langeberg. If I could live in a 50m2 Tamboerskloof flat for 12 years in my 30s and early 40s, why not a tiny cottage/ex-barn in my late 40s? Especially if I could chop a couple of years off my journey to freedom by doing so.
I bought this Swellendam spot privately last year before it went onto the market, and this year I sold my Durbanville flat privately. I'm currently also in the 'sidecar' with my partner as he's scouting for his first property at the age of 55. And I'm 'on call' for my parents as they get ready to sell their family home – their first time selling. It seems 2020 is the year in which big shifts take place. So, the topic of buying and selling is coming up a lot and I guess it's time for a post with some tips for first time property buyers.
1 Buy or rent? Can't decide? Get online help
When it comes to your own space, there's a time and a place for renting and for buying. Generally, renting is better if:
You don't know if you'll be in the same city/suburb a few years from now
It's a seller's market
You can't comfortably afford the bond repayments
You can't afford to or simply don't want to take on the risk of rising interest rates, and the responsibility of surprise maintenance or a hefty special levy
Buying would be better if:
You can commit to a place for at least 5 years
You've found a place with low levies, municipal taxes and general maintenance costs
You earn enough to afford the bond repayment – even if interest rates nearly double
It's a buyer's market
If you did your homework well and know all the expenses that comes with a property that's for sale vs one that you're looking to rent, there's a great online tool to help you fine tune your comparison. This one does all the hard 'time value of money' calculations for you:
Rolling Alpha - Rent or Buy calculator
2 Location, location, location still stands
One of the universal tips for property buyers is to buy the smallest (but comfortable) property in the best neighbourhood you can afford. 'Best' neighbourhood needs to tick most of the boxes below:
It's safe
Properties have shown strong capital appreciation over 10 years or more
The municipality has had a clean audit for years
You can identify with your neighbours and feel at home
It's close to good schools, profitable shopping areas and public transport hubs
It's close to parks and other green zones
It's a leisure destination
Andro Griessel from Proverte recently published an insightful article on the current state of the South African property market, in which he also provides some tips for property buyers. He mentions a Lightstone report that showed the intuitive assumption that cheap properties would show the most capital growth has not been true in South Africa. It's the properties in already expensive neighbourhoods that appreciated most. First prize would of course be to find good value for money within an expensive neighourhood – and let the rising tide of surrounding properties lift the value of your 'boat' too.
3 Know exactly what the property is worth
Knowing how much to offer on a property comes from experience. Simply view as many properties in the same and similar neighbourhoods as possible. And nowadays it's really easy – and free - getting hold of all the sales prices of properties in the same or adjacent streets as the one you're interested in. I use Property24 for a quick check. On this Property Value page you can search for the sales prices in any street in any town in SA.
Be particularly aware of how much it would cost to add a garage or a decent fence – these are more expensive than you think. Fortunately, there is nothing stopping you from getting a quote on anything you need to add/change before you make your offer.
4 Find out ALL running expenses and ask for financial statements
Remember the end goal here - financial freedom. We want to end up with as little monthly expenses as possible without frugality sucking all the joy out of life. The last thing you want is for your dream home to push up your expenses so much that you need to work a decade longer to reach your financial freedom goal. Particularly when it's expenses that add no joy, like special levies. So, get a list of all monthly and annual expenses the owner is responsible for, which typically include:
Municipal taxes
Body corporate levies
Special levies
Gardening servies
Cleaning services
Armed response
Insurance
Wi-fi
Make sure the owner emails you proof of all these bills. You'll feel better when you put in an offer and you've got everything black on white.
If it's a sectional title property, scrutinise the financial statements and last annual meeting's minutes for any sign of dwindling reserves – a clear indicator that a special (additional) levy may be on the way – or big scheduled maintenance. Also ask for the telephone number of the chairperson of the body corporate to get an up-to-date account of how the block is doing and whether big maintenance jobs are on the way.
5 Find out all expenses payable on transfer
In South Africa, all expenses related to a property transfer – except estate agent fees and the beetle, plumbing and electricity certificates – are normally paid by the buyer.
The list can feel endless, and include things like postage (really), but costs generally belong in one of two groups: either related to the registration of the property (which includes transfer duty) or to the registration of the bond.
Ooba still has one of the the most reliable online cost calculators around.
6 Get to know the most important clauses – and traps - of an offer to purchase
The offer to purchase is THE document that matters. Remember, once you've signed it, and the seller accepts the offer, there is no backing out. You have yourself a property coming your way. So, please first run the entire document past a transferring attorney you trust or someone who has plenty of experience in buying and selling.
I'm not a transferring attorney and a property transfer is a highly specialised legal field, but through buying and selling a few times I've learned about a few clauses you need to pay attention to.
Who appoints the transferring attorney? By default, in South Africa, the seller appoints the transferring attorney and the buyer pays that attorney (not logical to me, but that's the way it is). But if you know a transferring attorney you'd rather use, a clause can be inserted stating that the offer is subject to the appointment of the buyer's attorney. This has given me enormous peace of mind with every deal knowing I have someone I know and who is available – sometimes after hours – for questions at any time. If it's someone you know, chances are good that they'll give you a slightly discounted rate too.
Who is responsible for the estate agent's commission? It should be for the seller's account. With my partner's very first offer to purchase the estate agent tried to sneak in several clauses making the buyer responsible for the commission in case the seller doesn't pay or goes bankrupt. Scrap those and put your initials next to the deletion.
Who is carrying the cost of the certificates of compliance? In rare cases – normally when the seller is located far from the property, they'll try and make the certificates of compliance – electricity, plumbing and beetle – the responsibility of the buyer. Watch out for these non-standard clauses.
Who is carrying the risk until transfer? It's important to know that ownership and taking on the risk/expenses and occupation are three different things. Ownership happens when the transfer goes through, usually 6-8 weeks after both parties signed the offer to purchase and emailed it to the transferring attorney. In lockdown this took about double the normal time. If you want access to the property before transfer and start moving in, you can specify in the offer that you'll take occupation before transfer date, in which case you'll start paying occupational rent. The deal could be similar to being a tenant without you needing to pay all the owner's levies and taxes and utility bills, but the offer to purchase would then need to be specifically worded that way. What sellers normally want is for the buyer to take over all the risks and expenses on date of occupation, and your standard offer to purchase would probably be worded that way. So, decide for yourself whether you are willing to take on all responsibility and expenses for the property before you officially become the owner. I prefer a 'clean' transaction in which occupation and transfer happens on the same day – then there's little risk of disputes over who is responsible for what before transfer.
Is there a servitude on the property? This can be a real deal breaker. Before I bought my new home privately, I worked through an agent to view a plot here in Swellendam and was on the verge of signing when an updated offer to purchase document suddenly landed in my inbox showing a 'panhandle' running over my erf, making the area I could use to build on much narrower. Not great. It was also a road that gave three neighbouring properties access over my land, and as I didn't know these people and how well we'd get along, I pulled out. The property that I eventually bought also has a servitude and gives only one neighbour access to her garage. That I can handle. A servitude could also mean access to water or a multitude of other things, so always investigate this point further. A servitude could actually have benefits. For example, in our case, my neighbour and I share the maintenance costs of the security gate of our shared car entrance.
7 Most of the time fixing your bond rate is a bad idea
With the prime lending rate currently at an all-time low of 7%, I can imagine how tempting it might be to fix your bond rate. The reality is that fixing your bond rate is a bad idea. A fixed rate is almost always a worse deal than a normal, variable interest rate. That is because the fixed rate is normally at least 2% higher than the variable rate you would have been paying at the start of your loan – it's the bank's buffer to make sure the deal works in their favour. The bank decides how large the 'buffer' needs to be by looking at something called the yield curve – basically a chart forecasting what rates will be in the future based on what bond traders are willing to pay today for loans that mature at various points in the future. And then they add some fat to protect themselves against a loss on your loan due to interest rates climbing faster or by more than they expected.
On top of that, the fixed rate is only fixed for the first two to five years of the loan. For a fixed rate to make sense, the Reserve Bank would need to suddenly hike the repo rate very early in your bond term and hike it by more than 2%, wheras their pattern has been one of slow, incremental hikes of 25bps each. All of that is HIGHLY unlikely to happen in the first year of your bond. But then again, 2020 is a year of (most overused word of 2020) 'unprecedented' events.
Private Property has written an entire article only on why fixing your bond rate is a bad idea, and their website is overall packed with tips for first time buyers.
8 Buy-to-let is risky and tax-inefficient
Robert Kiyosaki followers get all fired up about getting rich while your tenants pay off your bond. But you really need to know what you're doing with buy-to-let. Rental yield calculations tied to the amount you originally paid for the property work for a low-inflation US-market, but not quite here in SA. You need an inflation-beating total return. You need fantastic tenants and high occupancy rates. You need sensible trustees heading up the body corporate – if your property is sectional title. And if you're a high-income earner taxed at 36% or higher, this is one of the worst investments you can make tax-wise. Also, you need a few months to get out of your investment (property is not a liquid asset) and you are heavily exposed to one asset class. One based in SA. You need a strong stomach for buy-to-let.
Then again, if you are not comfortable with financial assets, such as ETFs and unit trusts, that can be 'wrapped' up inside a tax-free account, or with new-generation retirement annuities, and will end up not investing at all if it wasn't for rental property, go for it. Even if you end up with a humongous tax bill every year once your property is paid up. Being taxed on rental income is better than not having any investment income at all.
Buying your own home is more than rand and cent
Buying a property should ideally make financial sense. But it can also enrich your life emotionally. If you find the type of place where you feel you want to spend almost all your time – lockdown would have tested that thoroughly – a deep and meaningful relationship with your property unfolds. It becomes your sanctuary, a canvas for your creative energy, and also your new point of reference from which you experience life. So, if you end up spending maybe R50 000 more than planned to meet the seller half-way or to make a few alterations, don't beat yourself up about it. Unlike ETFs and unit trusts, you're not investing purely for financial gain here; when you buy property you're investing in your quality of life. May your new home be a happy one.