On holiday the frugal way
By Lizelle Steyn

11 September 2019
Even as a pre-schooler the one thing that constantly got me into trouble was wandering off. Leave the gate open, and I'm down the road. Lock the gate, and I'll scale the fence. Fourty years later not much has changed. If it wasn't for all the extended holidays and overseas travel I probably would have been financially free right about now. But, then I might never have found out what was on the other side of the fence.
Still, give or take a night or two in Japan, I've always been very careful about how much money I spend. Money sticks with those who respect it and those who let it flow in appropriate measures towards the things they value; that counts for holidays too.
Whether you're planning a road trip or an overseas holiday, here are a few budget travel tips to make your rands go further.
South Africa: a dream destination for many
According to the Flight Network survey 2018, an African safari was top of the bucket list for the average international tourist. Are we not in Africa? Don't we have an insane variety of ecosystems in one country? Maybe we shouldn't feel too sorry for ourselves when a frugal holiday means savouring South Africa - a dream destination.
With great outdoor weather nine months of the year, camping is an obvious choice for the budget conscious. Inside Guide recently did the legwork in terms of camping in the Western Cape. Platbos, Grootvadersbosch and Beaverlac are three of my personal favourites. And if you want to bypass the expensive safari lodges, Sanparks has really upped its game in terms of setting up neat and clean glamping spots all over the country. We've tried most of the ones in the Table Mountain National Park and thought they were much more than basic. Spekboom in the Addo National Park is still on the bucket list.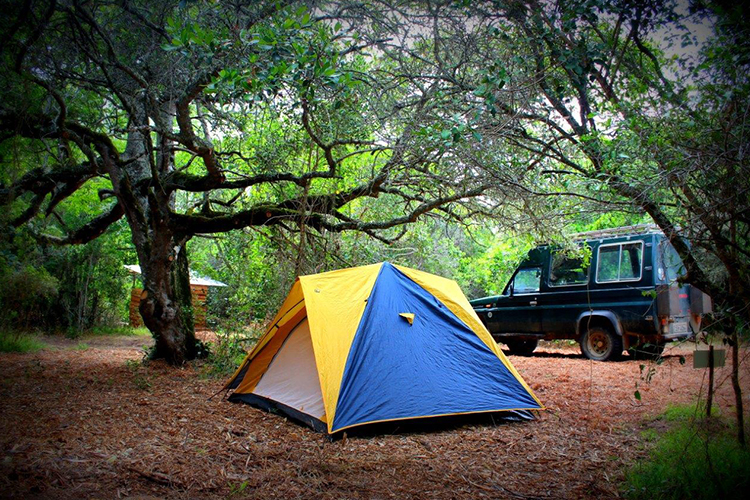 The ancient trees, shy bushbuck and quiet of Platbos have called us back again and again (Image: Inside Guide)

If you don't like sharing the bathroom with strangers, there are also camp sites that take only one group at a time, even if the group consists of only two people. Glen Oakes is a beautiful farm in the Hemel-en-Aarde valley with two huts and one such private camping site. To book the whole site for your group will set you back R900 per night – shared by up to 10 people.
And if camping isn't your thing and you need even more privacy, Airbnb has all sorts of accommodation options – from yurts to treehouses. To get to the top of the lot, select 'Entire house' and flick on the 'Superhost' button. Make sure you always store the telephone number of your host to contact them directly for repeat visits. We've never encountered a host that's not keen to do repeat reservations privately and save everybody the Airbnb service fee after the first round. Doing it this way, it's become rare for us to pay more than R800 per night for two people.
But what if you have the urge to flap your wings and experience the rest of the world? With careful planning it doesn't have to cost much more than a local holiday for two.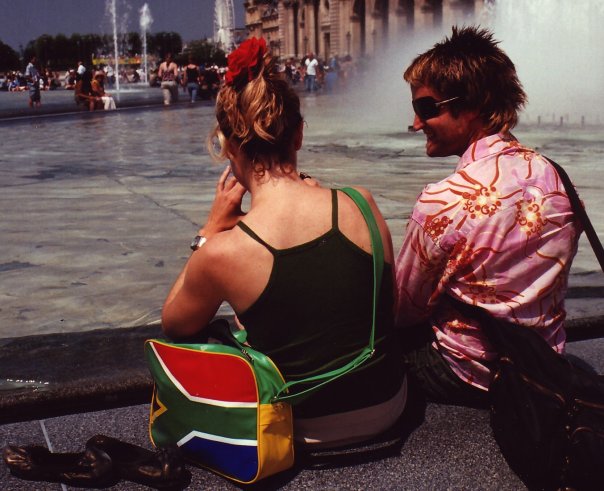 Meeting friends Johan and Rachelle in Paris (2007)

Tech is your friend in finding value-for-money flights
Step 1: Find out which airlines and flight dates are cheapest
For this Travelstart has the most intuitive interface. I particularly like the +/- 3 days option so you can find the cheapest flights around your chosen dates. While we're on the topic of timing, if you're planning a trip to a destination that's popular with Europeans, Americans or Australians, avoid being there from mid-July to the end of August. No need to add to the madness.
Of course cheap isn't everything. If you're nearly doubling your total travel time for a few hundred rand cut in fares, it's hardly worth the dent out of your holiday timewise. So, while 'Cheapest' is the default tab on Travelstart, also check the flights ranked according to 'Fastest'.
Step 2: Monitor a specific flight for the best buy
Once you've identified the flight/s that optimise price and travel time by using the search power of Travelstart, switch over to the Skyscanner platform. You'll get regular updates on the best price of your flight across international platforms. Usually the best timing is to buy between two and five months before departure date.
Step 3: Steer clear of the add-on traps
When eventually you do book, watch out for the add-ons that are sometimes added to the fare by default, such as a sticky web of insurance items. Make sure you untick all the items you don't need. I've stopped actually booking through Travelstart because nowadays you have to navigate this minefield so carefully with them, plus they charge extra for credit card usage (WTF?) Lately we just book directly with the airline, which has been mostly Emirates or Singapore Airlines, as well as all sorts of budget short-haul airlines for the connecting flights to more remote destinations. Only use Travelstart to mine flight details.

Research the local transport before you book your stay
In Bali we could have saved ourselves a lot of money if we booked an airbnb spot in the middle of Ubud. Instead we stayed about 4km outside of town on a busy, winding road with no shoulder – not ideal for pedestrians or scooters. Unlike most other things in Bali, taxi rides are not cheap, not because they're trying to rip you off; cars are simply very expensive to buy and you won't easily find a local owning one. I don't know about you, no matter how idyllic the home setting is, it sucks to feel stuck without forking out a lot of money to explore further. On the other hand, on the island of Nusa Lembongan, it's safe and easy to get around with a cheap scooter – no problem staying outside of the village there. In many parts of Europe cycling between villages is also an option, but research the safety of the routes first. There are so many travel bloggers and forums on the web, there's really no excuse for not knowing exactly how you'll be moving around.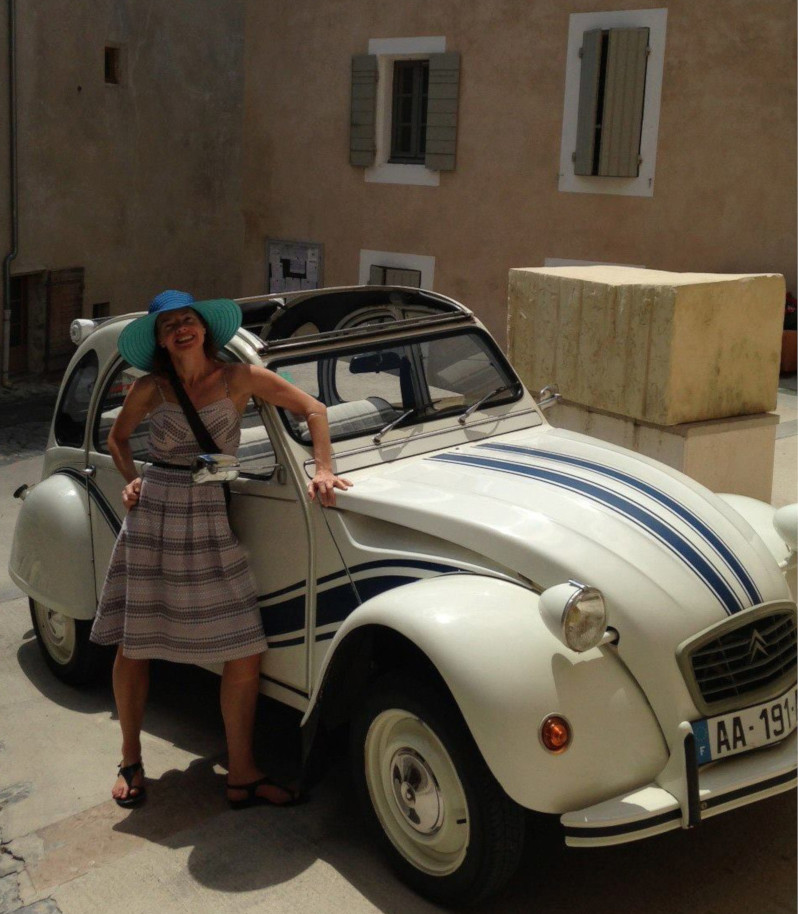 My partner splurging on a Citroen 2CV rental (Boulbon, 2013)

Accommodation – you decide how much you want to pay
Many years ago when I was so wrapped up in the corporate machine that I kept on getting emails from HR reminding me to take my annual leave either in days or as a cash pay-out, I eventually used four weeks to camp on an island in the Rhone next to Avignon. It cost me 6 euro per day and felt perfect in every way. Checking the prices today, I see they've pushed up the rate to 14 euro per night for one person camping. But the whole of France is great for camping. So is Scandinavia, which allows wild camping for those with more serious gear than just a South African Sunseeker tent. On many of the pilgrims' routes in Japan, you're also free to camp in the forest (mind the bears, though!)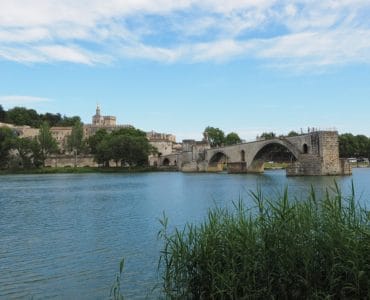 The view from Camping Bagatelle in Avignon is one of many available for under 20 euros per night

Don't forget backpacker spots. Other than dorms, they usually also offer private double or single rooms with shared bathrooms and a kitchen at a fraction of the cost of a hotel.
For creatures of comfort, Airbnb is your first port of call, along with booking.com. The various levels of luxury and wide range of prices offer something for everybody. (Here in Molyvos we're paying less than R1 000 a night for two people in a two-bedroom house with two terraces with views that are going to be hard to leave behind.) When doing the calcs, work out how much you'll be saving on eating out if you have your own kitchen. It's really worth being able to self cater.
Volunteering holidays combine purpose with pleasure
Something that I'm still keen to try out is a volunteering holiday with Workaway.info. Being one of those weird people who actually enjoy weeding, I suggested this Zen temple stay to my partner for our trip to Japan earlier this year. What's the deal? You stay for free in return for 3-4 hours of gardening (mostly weeding) five days a week. Sounded like bliss to me, but alas he was not so convinced. Well, maybe next time.
Are house swaps the next Airbnb?
I'm a little bit more determined about testing the house swap concept, though. In fact, that was one of the reasons I've just bought a small cottage (fixer-upper) in a great part of Swellendam, which offers hiking, wine tours, quirky Karoo experiences, national parks and incredible marine life at De Hoop – all within a one-hour radius by car. Internationally, Home Exchange is well established and locally there's House Swap to list with.
Bright lights, big city. Then get out – quick.
New York. London. Paris. Rome. Barcelona. Tokyo. Sydney. The perennial favourites. Staying in cities are expensive, though. So, plan carefully what you want to do and then get out. In most countries, you can stay in the rural countryside or in lesser known seaside villages for half the daily cost of being in the city. Unlike in the city, table water, bread, and sitting on the terrace are all free in smaller towns. Here in Molyvos we haven't once eaten out that we didn't get free dessert too! The markets are cheaper in the countryside and, it goes without saying, accommodation too.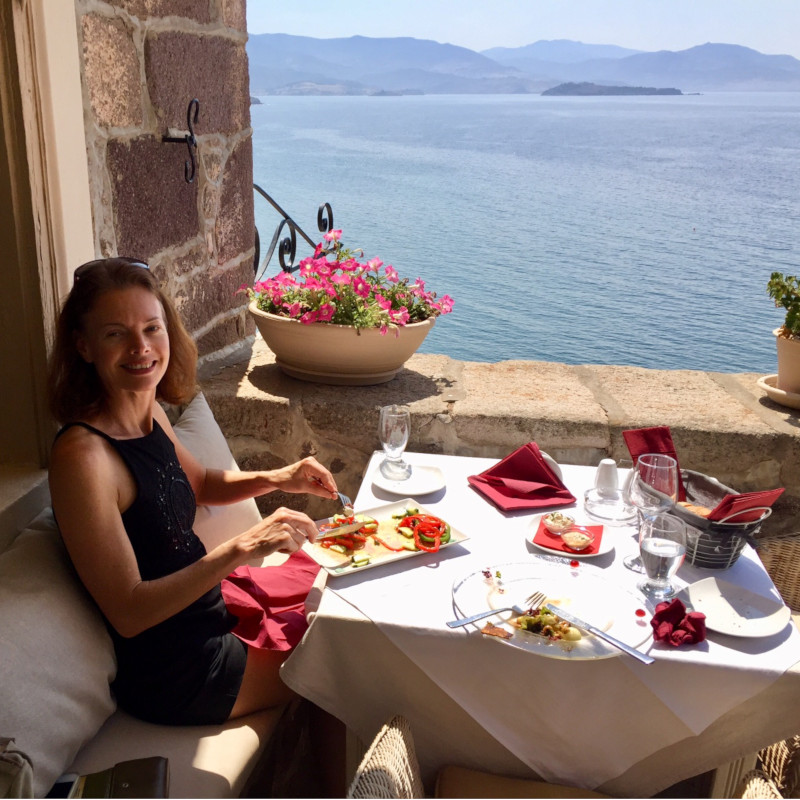 Not Santorini. Here we get complimentary bread from the local baker and dessert at every meal (Molyvos, 2019)

Choose a visa-free destination
The cost of a Schengen visa (60 euro) does make me think twice about visiting Europe after our two-year visa runs out in June 2020. Add to that the cost of compulsory travel insurance to qualify for the visa and you could easily add R3 000 to your total travel costs as a couple. Fortunately, there are many countries South Africans can visit visa-free. Turkey used to be on the list, but since 2017 you have to apply online for a visa at least 48 hours before travelling. It's free for South African passport holders, though.
Fine tune your forex
To be honest, this is an area in which I've been lazy up to this point in my life. I normally just draw money at the airport ATM with my Nedbank credit card on arrival, with has cost me between R120 and R180 per transaction over the past few years. I don't know how favourable the spread is, but Patrick from The Investor Challenge is more diligent than me and has sussed out these costs. It's worth reading the rest of his post on his favourite travel hacks too. Something I learned this year was to not choose the dynamic currency conversion (DCC) option when paying by credit card. In both Japan and the UAE I made the mistake of selecting this on the pay point machine and ended up paying about 4% more for each transaction. DCC is a type of insurance that guarantees the exchange rate at point of sale so you don't get a nasty surprise a few days later when the conversion is finalised. Even the rand is not volatile enough to justify the extra cost of this 'service'.
Are all the research, additional budget needed and physical discomfort of three flights and long layovers, buses that shake and wobble over potholes and break down in the middle of the night worth scaling the fence for? Hell, yes! Travelling allows a peep of alternative lifestyles and show up more forks in the road than we can imagine when we don't travel. Travelling - especially on a budget - is the most fun way and tactile way of learning I know of.